Irvine is consistently ranked as one of the best cities to live in, well known for safety, education and it's strong job market.
Another great perk of living in Irvine is how close so many shopping centers are! One that always comes to mind is the Irvine Spectrum Center. I love knowing that I can get all my shopping done in one place. In a single trip, I can buy a gift for my friends' birthday, get new clothes for my always growing boys, and pick up a little something for myself!
Anthropologie is one of our favorite stores, we love their cool and relaxed California vibe. The perfect spot for a curated mix of distinctive clothing, accessories, gifts, and home décor. We also love their Anthro living home which has fun and unique home decor and furniture. Everything you find at Anthropologie is unique, uncommon, and feels original.
Since the New Year has begun, I have really started focusing on my health and fitness (especially since summer is around the corner)! Like lots of other women, I'm absolutely obsessed with Lululemon's athletic wear. All of their clothes last forever and wearing them makes me more motivated to work out! Their store at Irvine Spectrum has a great selection of leggings and running shorts to choose from. I'm always so tempted to buy everything in there!
Irvine Spectrum also has my go-to store for flowy sundresses and cute bikinis! Free People is the perfect boutique to stop by before a vacation to Cabo or for some colorful summer clothes. I love that I can easily wear one of their maxi dresses with sandals to walk around in at the beach, and then throw on some heels to dress it up for a nice dinner.
Since the Irvine Spectrum center is in the process of being renovated, lots of new stores have popped up! My favorite one that opens up over the summer is Vuori. Vuori draws inspiration from an active coastal California lifestyle. Integration of fitness, creative expression, and life. Their products are designed with a west-coast aesthetic that transitions effortlessly to life outside the gym.
A fun place to stop in the Spectrum is Lip Lab which has customizable lipsticks. Pop in and pull up a stop and capture your individuality with a hue that's uniquely you. Create a lipstick you absolutely love and love wearing. One thing is for certain– you'll leave with super happy lips and colorful memories.
We love making a stop for our furry friends at Woofpak, they have great treats and a large selection of fresh food.
In my spare time, I try to focus on finding new trends, decor pieces, and furniture for my clients when they want to move or remodel their homes.
A spot that I visit often for inspiration is Ambiance Home in Irvine. They have a chic collection of plush accent pillows, soft throw blankets and lots more. I like that the whole store is filled with elegant and timeless pieces. To add a pop of color to a simple room, I usually look for an accent chair or pillows that stand out in the store! When I went last week, I couldn't believe my eyes when I saw the perfect emerald green velvet chairs they had on the second level for my home.
Are you looking for more stores? Check out these shopping options in Orange County:

The Best Shops in Newport Beach

The Best Corona Del Mar Shopping

The Best Shopping in Laguna Beach
Are you thinking about moving to Irvine? If so, I would love to take you to lunch and share more about this wonderful city with you!
Natalie Boyle 949.929.5727
There are more homebuyers than homes to buy right now. That means a lot of home sellers find themselves in the fortunate position of having multiple offers to sift through, with many offering more than listing price. Welcome to a hot seller's market! While having a bunch of buyers throwing money and promises at you is a wonderful problem to have, you still need to know how to choose a single offer. (Hint: It's not always the highest one.)
The strongest offer for one seller might be the highest offer price, for another it could be the slowest closing window. If the seller wants to avoid making repairs, maybe it's the offer without an inspection contingency.
Here's how to choose from multiple offers on your house and pave the way for a smooth sale.
Let your agent be your expert guide
Bidding wars aren't as easy to navigate as you might think. While this may be your first time dealing with multiple offers, an experienced real estate agent is an old hand at this. Tap into their wisdom for strategies on getting the strongest offer for your house and closing the deal on time.
Make sure the buyer can actually pay what they're offering
The buyer offering the most money for your house always moves to the front of the pack, of course. But your agent can help you determine if the buyer has the bank to make good on the offer — and if it's really the strongest offer in terms of securing the cash to close.
Your agent can help you manage these important factors:
Make sure the buyer is pre-approved for a mortgage
Most of the time, a buyer will need a mortgage to buy a house. If that's the case with the offers you're considering, check to see if the buyer is pre-approved for a home loan. A pre-approved buyer has had their finances evaluated by a lender who determined they could qualify for a mortgage. An offer from a buyer with a pre-approval letter is stronger than an offer from a buyer without one.

Evaluate the amount of the down payment
Consider how much cash the buyer plans to put down on the house. Down payments of 20% or more of the home value tend to be the least risky for lenders to finance, which means it's less likely your sale will fall through on the account of a loan not working out for the buyer. Thus, larger down payments typically indicate that a buyer is more financially prepared and serious about their home purchase.

Make sure an all-cash offer is legit
If you get the holy grail of home bids, the all-cash offer, your agent can help you find out if the buyer really has the cash available to complete the deal.

Document whether the buyer has enough cash to cover a low appraisal
If you've received an offer over the listing price of your house, your agent can help you ensure the buyer has the cash to complete the deal if the house doesn't appraise for the amount they offered.
Here's what happens when you accept an offer over the asking price: The buyer's lender will likely require a home appraisal. If the appraised value of the home is less than the buyer's offer price, then the buyer must make up the difference in cash at closing. If the buyer does not have the cash, the sale could fall through.
So when you are considering multiple offers for a house, your agent can determine whether a bidder has enough cash in savings to cover a low appraisal.
Review all the contingencies
When buyers craft an offer, they usually include some conditions that must be met before they officially buy your home. If these conditions are not met, the buyer has a chance to back out of the deal. These contingencies may include getting approved for a mortgage, having the home pass an inspection or making sure the home appraises for a certain amount.
Review these contingencies with your agent and make sure you are okay with all buyer asks. As a seller, look for contracts with fewer contingencies to increase the odds of closing.
Consider the lender
You and your agent should also consider the lender that pre-approved the buyer. If the mortgage company or bank is known in the area and has a reputation for approving buyers that acquire financing, they're a better bet than a buyer working with a lender with little or poor reputation.
It's a good idea to research lenders if you and your agent are not familiar with them.
Negotiate, negotiate, negotiate
If you have gotten many offers, you're in a great position to negotiate. Sure, you can take the offer with the highest price and call the house sold. But your agent may be able to leverage a better offer for you.
Here's how you do that: Once your agent presents you with all the offers you've gotten from buyers, you can go back to the strongest bidder and make a counteroffer. Your agent can advise you on terms that make the most sense for you to request, with the promise that if the buyer accepts, the house is theirs. The terms of the sale you might consider include:
Negotiate closing timeline
You might want more time in your house so you can look for another one to buy. If that's the case, you can arrange a rent-back situation that lets you continue to live in the house a month or two after the close.

Negotiate sale price
You may get buyers who add an escalation clause to their offer that automatically outbids other buyers. This is a strong tactic to get some of the highest bidders to add a few thousand dollars to beat the competing offers.
In a super hot seller's market, your agent may lead a bidding war for your house. They'll ask all the people hungry for your house to submit their "best and final offer" by a deadline and let the strongest offer win. Your agent will know if this is a good idea for your market, and whether it's a good idea to accept backup offers for your house in this scenario.

Negotiate closing costs
You may get buyers to sweeten the deal by paying closing costs or waiving contingencies like the appraisal.
Getting multiple offers when you sell your home is thrilling, a real estate adventure story you'll tell forever. But let an agent give your story a happy ending by using experience and knowledge of the local market to help you get the strongest offer possible for your home.
The Verso Homes Team loves working with Sellers to select the BEST offer in this hot seller's market. Are you ready to move on to your next chapter? Send us a message, and let's get started.
Here are a few more tips I've put together for home sellers:

Does the For Sale Sign in Your Neighbor's Yard Make You Feel Like You Live in a FISHBOWL?

Why should I sell my house when I retire?

Preparing to Sell Your Home

Home Staging By Verso Homes

Top Investment Property Upgrades to Increase Rent and Equity
Email: [email protected]
Call / Text: 949.929.5727
Article Source Zillow
When a home in your neighborhood is for sale, it will attract drive-by traffic from potential buyers scouting the home and the neighborhood, before they even think about stepping inside the house. That can make you feel like your neighborhood is a glass fishbowl.
Rest assured, we understand how you feel. What you do want to focus on are these opportunities that are presented when homes in your neighborhood are on the market for sale.
Neighbors of Your Choice
We've all been told that you can't choose your neighbors but that is just not true! This is the perfect time to have a family member or friend move to your neighborhood. Call them and tell them about the home for sale down the street. They may need time to get their financing in order, should they decide to put in an offer (and need a loan from a lender). A home in Orange Country is on the market for an average of 48 days1. Typically offers are accepted in the first for 5-7 days of the home hitting the market. Timing is key and loan pre-approval is necessary for anyone considering a home purchase. So, reach out to the people you truly want as your neighbors!
Referrals to Contractors and Tradespeople
There's usually work that needs to be done before a house goes on the market. Finding good, reliable, and affordable contractors and tradespeople can be time-consuming and difficult. When they are already working in your neighborhood, you can potentially save yourself time and energy to get your home project underway! Contractors love to be able to schedule multiple projects in the same area. It saves them commute times and gives them more exposure in the areas they serve. So, piggyback off all the leg work your neighbor did in finding the right people to do the job!
Qualified Buyers
The median price of a single-family home in Orange County is $900,0002! The turn-around time from start to closing is quick and that leads me to the best part of home sales in your neighborhood. It is currently a "seller's market," meaning there are more buyers than there are homes for sale. This forces buyers into extremely competitive situations. We average 10 or more offers for each listing, typically over the asking price. Wouldn't it be great if you could tap into this market of qualified buyers who already know they want to live in your neighborhood? If you want to learn more about qualified buyers in search of a home in your neighborhood, call or email us, and we are happy to share that information with you!
So, while it may feel like you are living in a fishbowl, the drive-bys won't last long. Homes are selling quickly in this hot market. The opportunities you'll reap should outweigh any discomfort!
We love working with Buyers to find their dream homes.  We would be honored to assist you or anyone you know of in the Orange County area with any and all home selling, buying, or investing needs.

Here is a list of more tips for home sellers:

How to pick the best offer on your home

Why should I sell my house when I retire?

Preparing to Sell Your Home

Home Staging By Verso Homes

Top Investment Property Upgrades to Increase Rent and Equity
Call: 949-929-5727
Email: [email protected]
https://www.realtor.com/realestateandhomes-search/Orange-County_CA/overview
California National Association Realtors Aug. 2021 Stats
Taking Advantage Of Today's Skyrocketing House Prices For Retirement!
Recently, I placed my mother-in-law's home on the market for sale. It's an incredibly cute beachfront condo located within a highly coveted private gated community in Huntington Beach. Ocean views, stunning sunsets, and just steps from the beach – Location, Location, Location! To top it off, these homes rarely go up for sale! Mom is retiring in less than a year and wondering, "should I sell my house when I retire?" Like many of us, she has been witnessing the escalating prices in the market and the accelerating value of her home. After looking at her impressive equity, nearly tripling her investment in less than a decade, she felt that she was in a great position to sell her place when she retires! Great News, right? Well, not so fast.
---
Something Didn't Feel Right
As anticipated, multiple offers were received within days of the listing. However, something wasn't right for Mom, the offers were making her feel sick instead of happy. She insisted, "I'm retiring, it's the right time to sell my house, I can make so much money," it didn't feel like the great news she had initially expected. Instead, the offers signaled the fast-approaching imminent sale of her home and it didn't feel good. She began asking herself again, "why should I sell my house when I retire?"
We talked and it became obvious that making money was not actually her motivation for selling; it was not her "Why," so I didn't feel right either. My goal as an agent is not to maximize profits for my customers. It's great when that happens, but it's not my purpose. My purpose is to take care of all the real estate needs of my clients. I value positive energy and a feeling of connection with my clients. For me, it is of paramount importance to more deeply understand my client's needs and to identify their unique "why."
The Importance of Identifying Our Client's "Why"
What does the "Why" mean? The "why" refers to why a client is doing what they are deciding to do. While it seems simple enough, this experience led me to refine my process of how I work with clients to identify their "why." The word itself, why, can often make us feel defensive and can trigger pressure to provide a "good reason" for choosing whatever it is we're choosing. Answers like, "I want to make money", can be void of any real meaning and unfortunately lead to an unfullfilling outcome.
Exploring Mom's Why – why should I sell my house when I retire?
Back to my Mother-in-Law, we realized that she was feeling the pressure of retiring and the markets skyrocketing prices. Mom realized that she was unsure of the next chapter in her life. So she asked her self again, why should I sell my house when I retire? She loves the beach and wants to be close to her family, and she wants to ensure her financial future. However, the "Why" did not live inside any of these reasons! After a few sleepless nights, I realized that taking her home off the market was the right thing to suggest. I knew it was the right thing to do when I witnessed her relief. I called the other agents who had offers in and respectfully declined their offers at or above the asking price.
Changing The Plan – Deciding Not To Sell The House
There is no tripling of the investment for mom, there is no commission for me as the agent . . . and there is no better place to be! You see, the best transaction I can make as a real estate agent is the one that satisfies the real "Why." If a client is not feeling confident and joyful about their "why," then the "why" is definitely in question. In the end, we established that mom's "why" didn't feel good to her. Essentially, when the "why" doesn't feel right, it means we didn't actually have a "why" to begin with. I am proud of Mom's decision to keep her beautiful beach home, and I am pleased to say I kept my promise to always "take care of my client's real estate needs."
Defining The Why – The Verso Homes Process
I'm grateful and thankful that Mom realized her "why" – that selling her home wasn't the right thing to do. Together we learned how important it is to ask, how does my "why" feel? This experience allowed me to hone in on my process of identifying my clients "why". In addition to gathering answers to questions like "what is the square footage of your home," I also apply a systematic approach to developing and honoring my client's "why." If we can't confidently and happily establish the "why," I'm no longer in alignment with my core values. When the "Why" is clearly defined, I know how to take care of my clients, their transactions, and I can assure a positive outcome 🙂
With thanks and appreciation!
More tips for Home Sellers:

Does the For Sale Sign in Your Neighbor's Yard Make You Feel Like You Live in a FISHBOWL?

How to pick the best offer on your home

Preparing to Sell Your Home

Home Staging By Verso Homes

Top Investment Property Upgrades to Increase Rent and Equity
If you've ever been in a bidding war with other buyers interested in the same house, you know how important a cover letter is. It can easily be the deciding factor in who the seller chooses to sell their house to. Since they are so important, I wanted to give you the best buyer cover letter tips on how you can make yours appealing and stand out against the rest!
Make the letter personal and build a connection
It is important to let the seller know why this home, in particular, is perfect for you. It is always a good idea to write about how you will enjoy their home. If you have a family with kids you could write about being able to picture your children playing in the grass in the backyard.
Give them some information about yourself
Sellers want to know about the people that will be living in their home. They also want to feel a connection with the people buying it. Writing about the job you have and your family is a great way for them to get to know you!
Point out your favorite features in the home
It's always nice to compliment the seller by talking about your favorite things about their home. For example, you could mention how much you love their spacious and bright kitchen if you and your family love to cook. If there is a pool in the backyard you could talk about how you and your family love to spend summers outside together cooling off in the water.
Give thanks
Thanking the seller for giving you an opportunity to make an offer is very important! The end of the cover letter is a great place for you to show that you appreciate the chance to make an offer on their home. You can also add that you can't wait to hear back from them!
A well-written cover letter can persuade a seller to allow you to buy their home. Hopefully, these tips can help you write a thoughtful cover letter to secure your dream house!
Here are two examples of cover letters: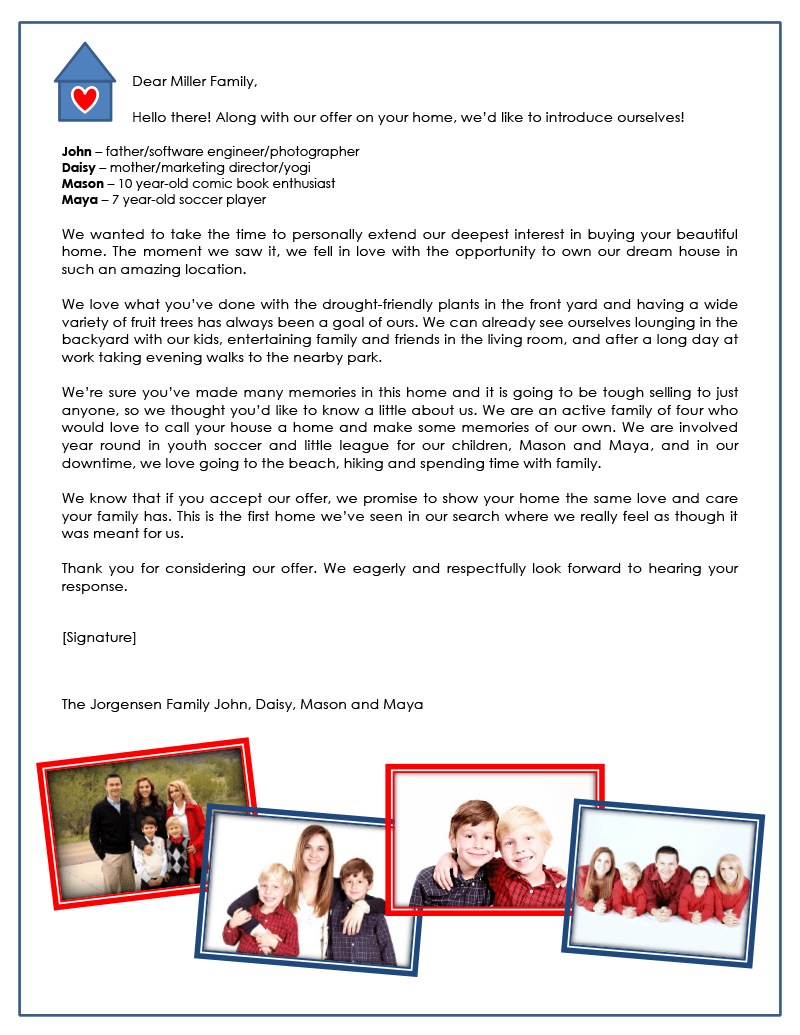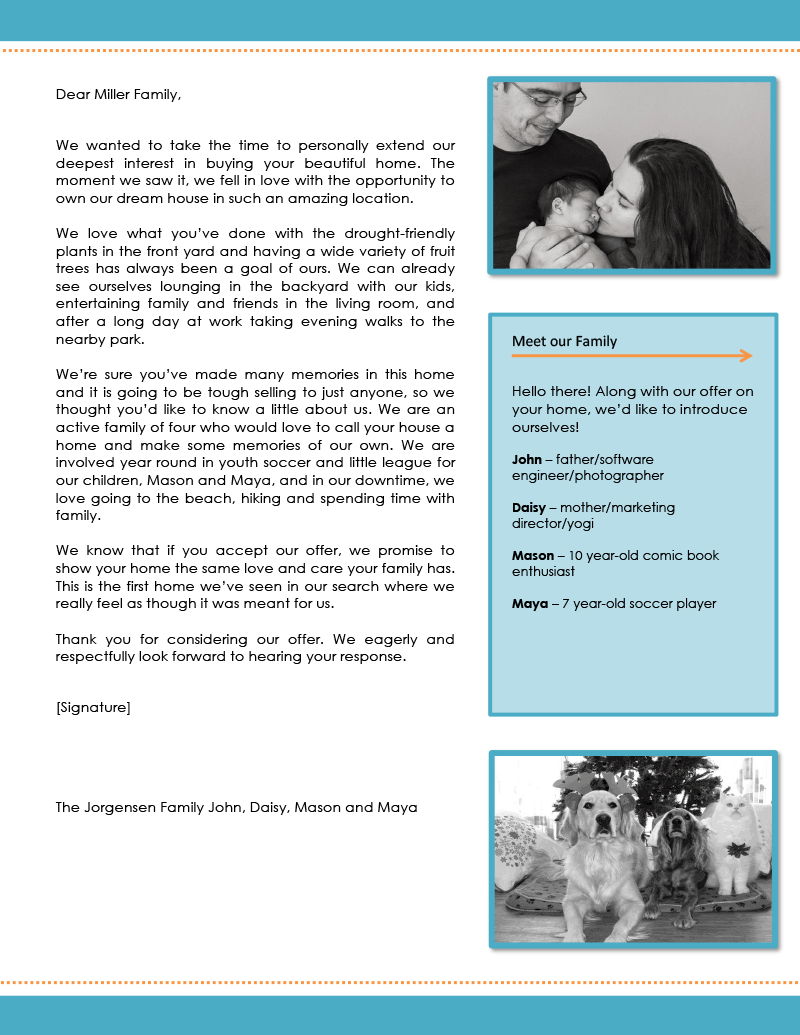 Here are a few more tips I've put together for home buyers:

How to Evaluate a Neighborhood

Home Buying Checklist

5 Tips for Buying a Home
Can you all believe we are well on our way into 2020?! Bethany with The Posh Home and I will be sharing a monthly blog series on tips and tricks to organize your home more efficiently and effectively.
Organization saves you time, money, and makes your spaces look more put together. We are both sharing our perspectives, from a real estate perspective I know the importance of an organized space. Most people when looking to buy a home look in cabinets! The more organized you are the more appealing your home will be to a buyer. From a design perspective, Bethany knows organization is key from a functional perspective as well as an aesthetic perspective. It is so important. We are so excited to share this month's organization challenge on modern pantry organization hacks!
MODERN PANTRY ORGANIZATION HACKS
The Before
The key step in getting organized is assessing your needs and evaluating how to make your space more functional based on your specific needs.
Here are the steps to get you well on your way to an organized pantry
Measure first then take everything out.

First, measure your spaces to ensure you order the correct size bins and containers. We took everything out of the pantry, to first see what items were multiples, what items were expired or no longer needed.
2. Clean out the shelves!
We made sure to clean out the shelves, and then grouped items together. This helps make the planning and placement aspect that much easier.
3. Group items in containers and bins.
Make sure everything has a place that makes sense and that the placement of the items is functional. We put baking items in sealed glass containers to keep items fresh longer and to save space within the panty. We loved the glass containers with the wood lids to give that clean modern look and Lucite bins so it's easier to see your items grouped together.
4. Label Everything
Labeling helps set you up for success and helps ensure everything is put in the correct spot now and in the future! We loved these labels we found on Amazon.
5. Think through your layout and placement of items that are needed more frequently
We wanted to make sure that snacks were reachable for the kids and the more day to day items were easily accessible. This not only makes grocery shopping that much easier being able to see what is needed it also helps save money by not buying multiples of items you need. A great way to store spices and canned foods is by using tiered storage. This helps you find things so much quicker and ensures you stay on track with organization!
We hope you enjoyed our modern pantry organization hacks! We would love to see what you decide to do with your pantry so be sure to share and tag us so we can follow along! Stay tuned for next month's organization challenge and project!
Here are some more tips on moving and home organization:

Kitchen Remodel and Transformation

Great Tips for Relocation

Kitchen Hardware DIY Project
If you are looking for a professional realtor, I would love to take you to Zinc Cafe to discuss how I can help you!
Natalie Boyle 949.929.5727
One of the things I really appreciate about Laguna Niguel, is that it has so many hiking trails and parks to enjoy. Here are a few that are my favorite Laguna Niguel hikes and parks that I go to often with my family!
Laguna Niguel Park is a popular spot to go fishing, bike riding, and have a shaded picnic! This park is also a favorite for people that like to play volleyball and tennis since it has several courts. It also has one of my kids' favorite playgrounds and lots of open space to play soccer. I love that they allow dogs and that there is a Whole Foods nearby to grab a smoothie after a long walk. However, the best part about the park is that it hosts the most beautiful fireworks shows on the fourth of July. My family and I always set up our picnic blankets and bring popsicles earlier in the day so we get a great spot watch!
Another great place to enjoy nature is the Also Summit Hiking Trail. This hike has gorgeous scenic views of Laguna Niguel and Laguna Beach. It's perfect to bring kids on and is dog friendly too! Whenever I go on this hike I pack a few snacks and drinks to enjoy at the end where you can see a panoramic view of the ocean.
Laguna Niguel also has a hidden gem above the Crown Valley Community Park. The Niguel Botanical Preserve that features 2000 plant species from five areas in the world and is 18.2 acres. I love taking peaceful walks in the preserve since it has four miles of trails lined with beautiful flowers. My favorite thing about the preserve is that attracts so many colorful butterflies and birds.
The Crown Valley Community Park is also another great spot to spend time outdoors in Laguna Niguel. The park is almost done being renovated and now has a brand new outdoor amphitheater that is used often for different events during the year. There are also two new playgrounds and a variety of sports fields. A new sprayground has also been added to the park across from the playground. I can't wait to take my kids there to cool off during summer!
Salt Creek Trail is the longest trail in Laguna Niguel with multiple locations to start and has both paved and dirt trails. My family and I love to start this trail at Chapparosa park for a family bike ride on the paved path. We do a turnaround ride right after the tunnel that goes under Niguel Road and we end back at the park where we usually hit the basketball court or playground after. It's a leisurely easy ride or walk for our family and it's also dog-friendly too so we can bring our pup Teddy.
I hope you can get outdoors and enjoy these Laguna Niguel hikes and parks!
To learn more about my other favorites hikes in OC check out the links below:

Top Corona Del Mar Beaches and Hikes

Laguna Niguel Hikes and Parks

Top Irvine Parks and Hikes

OC Hikes

Laguna Niguel Trails

If you are thinking of buying or selling your home in Orange County, I would love to take you to Plumeria Cafe to see how I can help!
Natalie Boyle 949.929.5727
Here are some tips on how to evaluate a neighborhood well!
1. Drive Around
Does it look like a place you'd like to live?
Is it near places you'd like to go?
Is it too near places you'd like to avoid?
What will it be like at commuting times?
What is it like at night?
2. Quality of Schools
What is average school performance?
Average test scores?
College bound percentages?
Spending per student?
State rankings?
Financial position?
3. Education/ Income Profile
Average household income in the area?
Education level of most people in the neighborhood?
Types of occupations other owners have nearby?
Are there families with kids or people who are retired?
4. Cultural Amenities
Proximity to museums, galleries, universities, seasonal entertainment, theaters, etc.
Even if you don't frequent them, they set the tone for the area.
5. Property Values
Steady or increasing values generally mean that your investment is sound.
It is almost always best to buy the smallest, least expensive home in the best neighborhood you can afford.
6. Future Growth
If you are not planning on staying in your new home for a number of years, an abundance of new construction could affect resale.
The existence of higher-end properties could increase the value of yours.
I hope these steps for how to evaluate a neighborhood were useful!
Here are some more helpful moving tips:

Dealing With Financing

Look Who's Buying

Great Tips for Relocation

Home Buying Checklist

5 Tips for Buying a Home
Always seek the assistance of a real estate professional for your neighborhood evaluation!
Thinking about making a move? Contact Natalie today, 949.929.5727.
Happy Tuesday, I am so excited for today's post! I have teamed up with my good friend who also happens to be an Interior Stylist in Orange County, Bethany Campbell with The Posh Home today to showcase an amazing before and after kitchen transformation.
We will be sharing some tips and tricks to save on remodels as well as the overall budget of this kitchen remodel and what to look for when buying a home. Hope you enjoy this kitchen remodel transformation on a budget in Orange County today.
Kitchen Remodel Transformation On A Budget in Orange County
Q & A with Bethany
What advice would you give your clients before starting to look at houses?
It's important to prioritize your wants and wishes in a home. As well as look at the overall picture of the home, try to look past paint colors, décor, and things that are an easy fix. There are some things like location and neighborhood you can never change. It's important to work with Professionals to help you evaluate, one the overall home and neighborhood and two any updates that can easily be made to a home.
What are some ways that you can add equity into your home?
Working with a Real Estate Professional that can provide an in-depth evaluation on what remodeled homes in a particular neighborhood are going for versus homes that are outdated. Kitchens and Master Bathrooms provide the highest ROI. There are some great ways to update without breaking the bank. Some examples of that are painting kitchen or bathroom cabinets, updating hardware, lighting. One option if you don't have it in the budget right away to make some changes to the home would be to wait a year or so and pull out a home equity line of credit for your remodel project. If your Real Estate Professional helps you purchase the home under market value you will have higher comparable homes to help with the approval process with your home equity line.
What are some cost-saving tips for buyers to keep in mind while shopping for a home?
Finding the right layout and good bones is key to cost savings. Paint colors, floors, cabinets, and countertops can always easily be changed at any time. The layout and structure of a home are more costly and difficult to change.
What can buyers look for in a home to help them save money on their kitchen remodel?
If we can find a home that has great appliances it can save the buyer $10,000-$15,000. Especially if we can find a kitchen with a great built-in refrigerator as the prices on built-in refrigerators usually start at $8,000+. Just like we did for this buyer.
When should you bring an Interior Stylist in?
I would recommend bringing in a Professional once escrow is open. The benefits to this are that you can get a head start on planning your design, they can walk you through adding functionality to the space, and addressing any changes or updates you would like to plan. You can also determine a budget for your overall furniture selection and updates. This will help you budget how much to put down versus setting aside for your Interior Design plan.
Bringing in an Interior Designer in the escrow process is beneficial to get a jump start on your overall remodel. It will save you time and money in the process by putting a solid plan in place as early as possible. Furniture and material selection can take time so the sooner you make the selection and order materials. It will help with planning the time needed between the close of escrow and moving date. The sooner you get started on this process the sooner you can enjoy your new home.
The Before
Kitchen:
This family wanted to brighten their home and kitchen, as well as make some tweaks to the overall layout. They wanted to update their brown kitchen and ceramic tile. A light and bright kitchen was at the top of their wish list. They purchased the home under value within their neighborhood and added instant equity through this kitchen remodel. They had a small island with no seating. This client dreamt of a space where people could sit and enjoy meals together in the kitchen. The solution to that was improving the overall layout by moving the double oven and small island and creating a larger breakfast bar kitchen peninsula. They also wanted to improve their storage by adding additional cabinets. Their ceilings are 9 feet so that allowed for upper cabinets for additional storage.
Breakfast Nook:
Originally the space felt very heavy and closed in with floor to ceiling brown cabinets. They decided to maximize countertop space and allow for more of a built-in buffet. The finished project was bright and cheery and improved their functionality in the space.
The After
Overall, the space feels more open and inviting. It improved their entertaining space by increasing the counter space and seating in the kitchen. The kitchen now is so bright and cheery and overall transformed their house while adding instant equity.
Budget Breakdown
The overall cost of this remodel including materials and installation brought this remodel to approximately $25,000. In this marketplace, a bright and cheery white updated kitchen to this caliber could bring upwards of $50,000 in home equity.
Demo & Dump: $1,500
Solid Wood Kitchen Cabinets: $12,500
Wood Flooring: $2,600
Quartz Countertops: $6,200
Tile Backsplash: $1,900
Hardware: $300
Sources
Countertop: Harmony Quartz in Venatino
Subway Tile: Mulia Tile in Warm Gray
They were able to source the same wood flooring from their living space to their kitchen area so it improved the overall flow of the space and in uniting the spaces together.
I hope you enjoyed this kitchen remodel transformation and budget breakdown in Orange County.
You can learn more about Home Improvement here:

Modern Organization Hacks

Kitchen Remodel and Transformation

Kitchen Hardware DIY Project
If you are looking for a professional to assist you with remodeling, I'd love to help
Natalie Boyle 949.929.5727
Looking to buy a home? Here are 5 tips for buying a home that will make the process as smooth as possible.
Get your finances in order.
Start by getting a full picture of your credit. Obtain copies of your credit report. Make sure the facts are correct, and fix any problems you find. Next, find a suitable lender and get pre-approved for a loan. This will put you in a better position to make a serious offer when you do find the right house.
Find a house you can afford.
As with engagement rings, there's a general rule of thumb when it comes to buying a home: two-and-a-half times your annual salary. There are also a number of tools and calculators online that can help you understand how your income, debt, and expenses affect what you can afford. Don't forget, too, that there are lots of considerations beyond the sticker price, including property taxes, energy costs, etc.
Hire a professional.
While the Internet gives buyers unprecedented access to home listings and resources, many aspects of the buying process require a level of expertise you can't pick up from surfing the web. That's why you're better off using a professional agent than going it alone. If possible, recruit an exclusive buyer agent, who will have your interests at heart and can help you with strategies during the bidding process.
Do your homework.
Before making a bid, do some research to determine the state of the market at large. Is it more favorable for sellers or buyers? Next, look at sales trends of similar homes in the area or neighborhood. Look at prices for the last few months. Come up with an asking price that's competitive, but also realistic. Otherwise, you may end up ticking off your seller.
Think long term.
Obviously, you shouldn't buy unless you're sure you'll be staying put for at least a few years. Moreover, you should buy in a neighborhood with good schools. Whether you have children or not, this will have an impact on your new home's resale value down the line. When it comes to the house itself, you should hire your own home inspector, who can point out potential problems that could require costly repairs in the future.
I have been telling all of my clients about these 5 tips for buying a home and think that they're great to keep in mind!
Here are several blogs that are also helpful when buying or selling a home:

How to Evaluate a Neighborhood

Dealing With Financing

10 Best-Kept Secrets for Buying a Home

Home Buying Checklist

The Best Buyer Cover Letter Tips
Always seek the assistance of a real estate professional for buying a home!
Thinking about making a move? Contact Natalie today, 949.929.5727.