If you've ever been in a bidding war with other buyers interested in the same house, you know how important a cover letter is. It can easily be the deciding factor in who the seller chooses to sell their house to. Since they are so important, I wanted to give you the best buyer cover letter tips on how you can make yours appealing and stand out against the rest!
Make the letter personal and build a connection
It is important to let the seller know why this home, in particular, is perfect for you. It is always a good idea to write about how you will enjoy their home. If you have a family with kids you could write about being able to picture your children playing in the grass in the backyard.
Give them some information about yourself
Sellers want to know about the people that will be living in their home. They also want to feel a connection with the people buying it. Writing about the job you have and your family is a great way for them to get to know you!
Point out your favorite features in the home
It's always nice to compliment the seller by talking about your favorite things about their home. For example, you could mention how much you love their spacious and bright kitchen if you and your family love to cook. If there is a pool in the backyard you could talk about how you and your family love to spend summers outside together cooling off in the water.
Give thanks
Thanking the seller for giving you an opportunity to make an offer is very important! The end of the cover letter is a great place for you to show that you appreciate the chance to make an offer on their home. You can also add that you can't wait to hear back from them!
A well-written cover letter can persuade a seller to allow you to buy their home. Hopefully, these tips can help you write a thoughtful cover letter to secure your dream house!
Here are two examples of cover letters: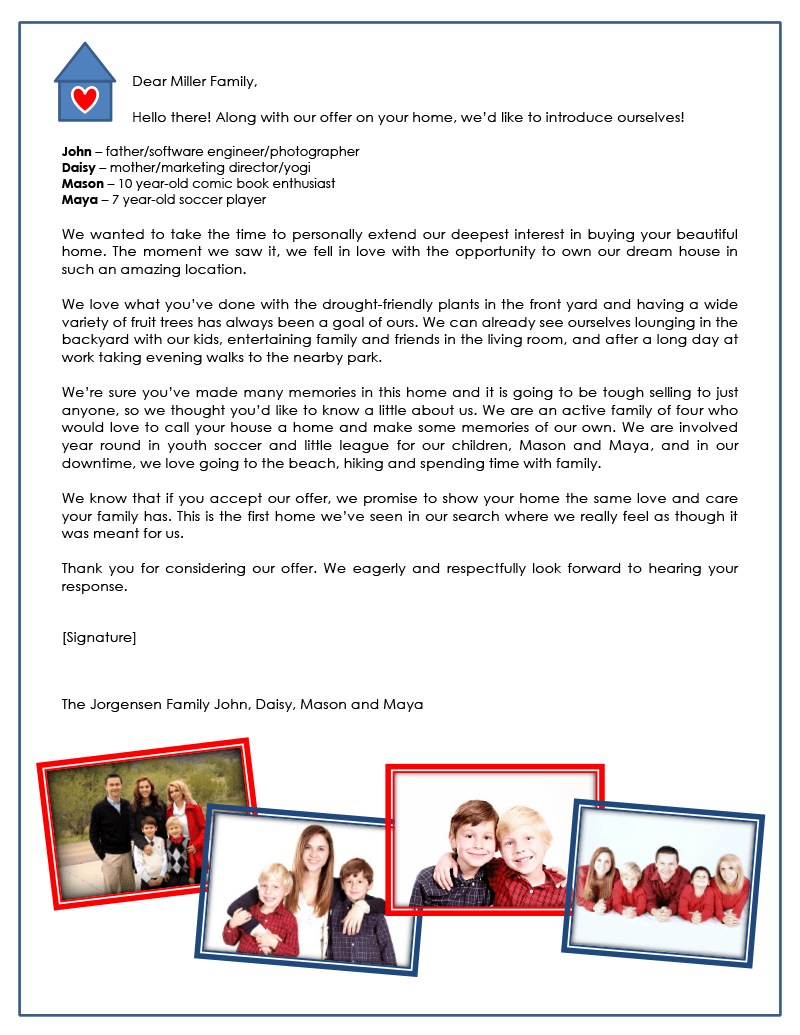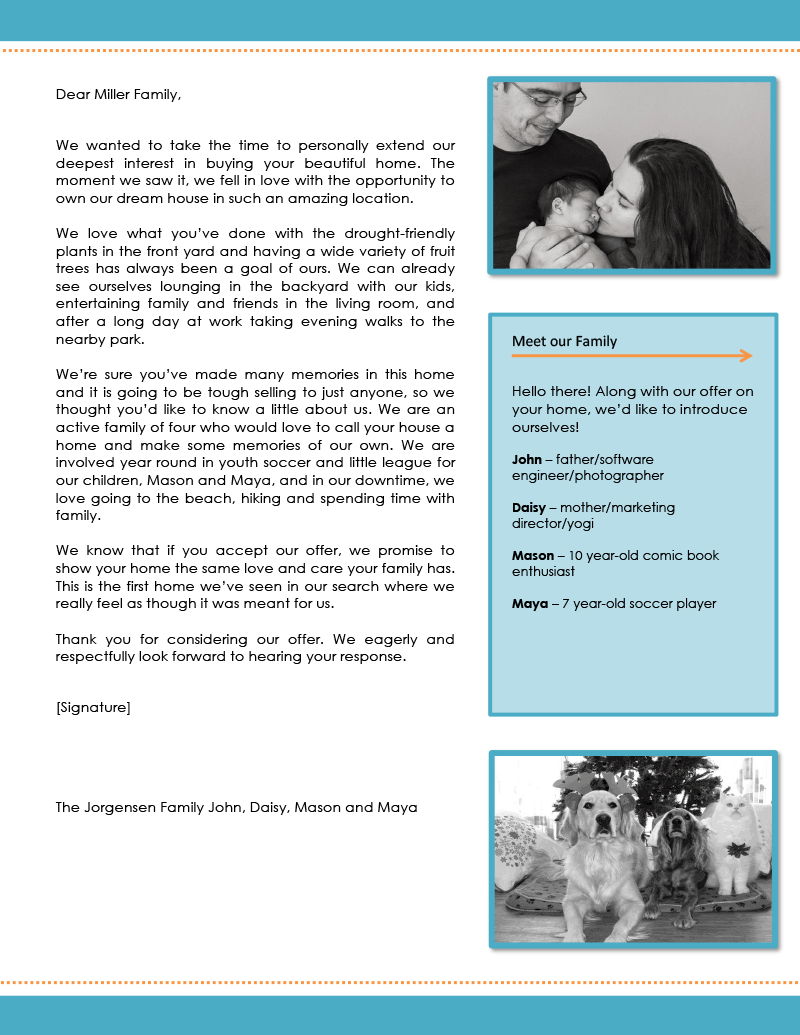 Here are a few more tips I've put together for home buyers:

How to Evaluate a Neighborhood

Home Buying Checklist

5 Tips for Buying a Home
Moving from a small town or suburb to a large city can be an intimidating proposition. Here ares some great tips for relocation to make your move as painless as possible.
Research before you move.
It's important to understand the culture you're joining. Do research online and find out about school systems, neighborhoods, parking, weather, public transportation, and laws that are native to that area. If you can, visit a city before moving and connect with someone who's lived there before.
Have a plan.
There are a lot of steps to go through before you start packing the moving truck. Find housing before you leave, or at least know where you'll stay while you look for a home.
Don't Move Without Preparation
Never sign a lease on an apartment that you haven't seen. If you can't get there, find a friend or an employer to check for you. Have a job waiting for you, or if that's not possible, know what you'll do for money in the first few weeks of living there. Try to line up things like driver's licenses, car insurance, renter's insurance, and parking passes ahead of time as well.
Get involved.
Meeting people in a big city can be daunting. Don't expect the neighbors to knock your door down with a casserole when you arrive: city life is often too noisy and hectic. Take the initiative. If there are things you liked to do in your town, find ways to do those things in the city. Try new things. Volunteer. Big cities offer so many opportunities to engage other people, so find what you like.
Mind your wallet.
City life is expensive. Everything costs more: food, insurance, clothes, rent. There are also a lot more ways to get ripped off, whether legally or criminally. Be careful how you spend, and know where your money is going.
I hope these great tips for relocation were helpful!
Here are some extra tips for moving!

5 Tips for Buying a Home

Dealing With Financing

How to Evaluate a Neighborhood

10 Best Kept Secrets for Buying a Home

Home Buying Checklist
Always seek the assistance of a real estate professional when you are considering relocation!
Thinking about making a move? Contact Natalie today, 949.929.5727.